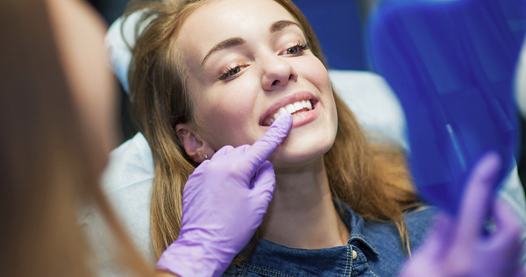 09 Mar 2021
Oral Hygiene Basics
Maintaining a good oral hygiene routine not only impacts the health of your teeth and gums but can also have a residual effect on the health of your body. Throw into the mix of toothaches, gum problems, bad breath, and infections, and it's evident to see why maintaining a good oral health routine is important to ensuring the longevity of your smile. In today's blog, we look at oral hygiene basics you can incorporate into your daily routine below.
Oral hygiene basics: Things to do daily
Brush your teeth twice a day
Of the oral hygiene basics, none is more important than brushing your teeth. As you naturally accumulate acid and bacteria in your mouth overnight, brushing in the morning helps to rinse out any bacteria and to ensure you don't have bad breath. Brushing at night gets rid of all the plague you've built up over the day and helps to stop tartar from building up and causing damage to your teeth.
Floss regularly
Flossing your teeth is just as important as brushing, as food can quickly get trapped in between your teeth and cause several dental problems. This is because a toothbrush can't always get into those hard-to-reach spots which leaves you at risk of developing cavities or gingivitis. When combined with brushing, the two ensure you're leaving no room for bacteria to evolve in plaque.
Use a tongue scraper
Did you know the tongue holds up to 650 different species of bacteria? After brushing, this bacterium can stay on the tongue and spread to the rest of your mouth, coating your teeth in another layer of bacteria. A tongue scraper is a quick and easy way to eliminate this from happening and can be done in just seconds. Many popular toothbrush brands offer two and one toothbrushes and tongue scrapers, so you can simply use the back of the brush when you've finished with your teeth.
Change your toothbrush regularly
An old toothbrush with warped bristles is a breeding ground for bacteria, so it's important to change your toothbrush before it reaches this stage. At Gympie Road Dental, we recommend our patients change their toothbrushes every 12 weeks if they use traditional brushes or 8 weeks for electric toothbrush heads as the bristles are shorter.
Limit sugary or teeth-staining foods and beverages
Though we don't recommend cutting out your favourite sugary snacks altogether, limiting your sugar intake – especially sugary drinks – can vastly reduce your chances of getting cavities. The same can be said for acidic food such as citrus fruits, which can also wreak havoc on your enamel is consumed too regularly. Beverages like red wine, coffee or tea can deteriorate enamel and cause significant staining.
Visit your dentist regularly
A regular check-up with your dentist can ensure you're maintaining dental hygiene basics and that small dental problems don't become bigger ones. If left unchecked, plaque can quickly develop into tartar, which can only be removed by a dentist as the bacteria has bonded with the enamel. It's recommended you see a dentist twice a year to stay on top of your oral hygiene and to see if you have any cavities, broken fillings or gum problems.
Preventative care Brisbane
We hope our article on 'Oral hygiene basics' has given you a clear idea of good oral hygiene habits to adopt. If you'd like to book a checkup with one of our dentists, you can get in contact with Gympie Rd Dental by calling 07 3915 8888 or send any questions about dental hygiene basics via our online form. Or book an appointment directly for a check and clean today.